This site is supported by our readers. We may earn a commission, at no cost to you, if you purchase through links.
Don't you want your bald head and beard to raise some eyes and get some longing glances? Using a stylish, clean beard fade can take that skull/scruff combo over the top.
Here are the basic steps and tools you'll need:
You'll need a trimming device and some guard combs with varying lengths. Then go at your beard in small stages. Work from your natural length down gradually to the skin. Be light on the pressure and shave in multiple passes for an ultra-smooth fade.
Trim the sides first, starting slightly above the length you want to end with. Move to the edges and underside, tapering carefully. Double check everything is even, then define your neckline to get that finished look.
Once you perfect the technique, fading your beard becomes second nature. You'll look well-groomed without daily hassle.
Your bold, bald head needs a properly shaped beard to match.
Key Takeaways
Gradually trim the beard from the natural length to the skin, starting with the sides slightly above the desired length.
Taper the edges and underside carefully to achieve a clean and precise fade.
Use clippers to set the desired beard length and maintain the fade with regular touch-ups.
Follow the grain when fading the cheeks and trim upward and outward gradually for an even blend.
What is a Beard Fade?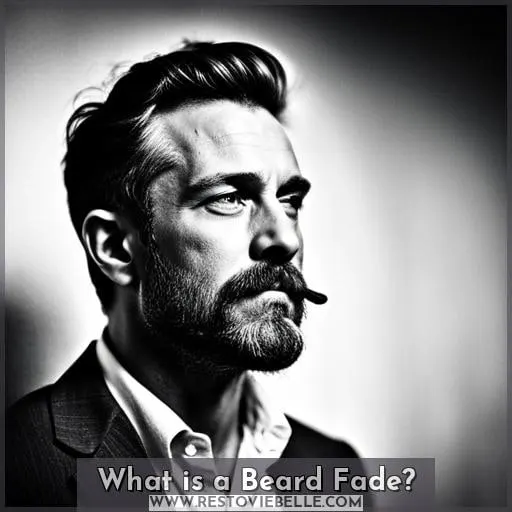 With the right beard grooming tools, you'll smooth out your scruff into a seamless, fresh fade in no time. A beard fade is a style where your facial hair transitions from long to short in a subtle gradient.
The key to success is using the right trimmers and techniques to create a barely noticeable blend from your sideburns to chin. Start by washing and combing to get a clean base. Then establish your desired beard length with clippers.
Next comes the fading – use progressively shorter guards while trimming upward and outward at an angle to taper your beard. Take it slow, starting with a longer setting to achieve that imperceptible gradient.
A beard fade elevates your look. Follow the fading process, and you'll master an enviable beard style.
Top 8 Tools for Fading Your Beard
The first step to fading your beard at home is obtaining the proper beard trimming tools. For achieving a perfect fade yourself, consider the Braun MGK3060 trimmer kit. It allows for precision trimming with adjustable combs, has useful grooming attachments, and is easy to utilize for quality beard trims.
With versatile tools like the Braun MGK3060, you'll be on your way to expertly fading your beard quickly. The Braun MGK3060 trimmer kit is an excellent option because it enables precise trimming. The adjustable combs, handy grooming attachments, and ease of use make the Braun MGK3060 a top choice for high-quality beard trims.
Having the right tools, like this flexible Braun trimmer, will have you adeptly fading your beard in no time.
1. Series MGK 3 K Compact Sized Tri Band Router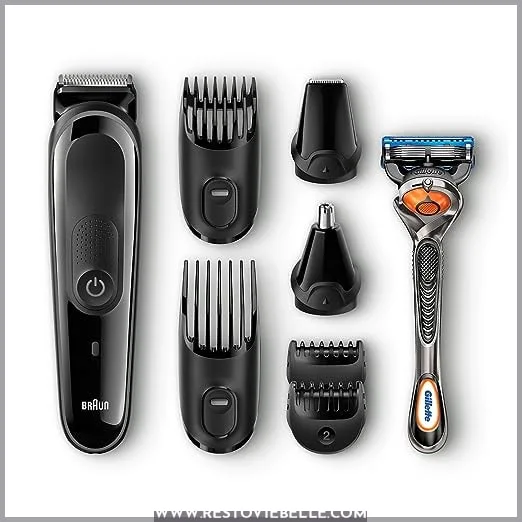 View On Amazon
Try the Braun MGK3060's adjustable combs for fading your beard as it provides impressive versatility for trimming facial hair. This electric trimmer allows precision in self-haircuts with its 13 length settings from 0.
5mm to 21mm. Its distinctive clip-on combs offer an easy way to get just the right closeness on your beard, mustache, sideburns, or body hair. The portable size and worldwide voltage adaptation make this an ideal tool for travel grooming.
While some men report an initial learning curve, most find the Braun delivers reliable, barber-quality fades with practice.
13 length settings for precision
Portable and travel-friendly
Delivers professional fades with practice
Easy to clean and maintain
Some learning curve adjusting combs
Not cordless; requires batteries
Quality issues reported on some units
2. Gillette Styler Beard Trimmer Men Proglide Razor
View On Amazon
Sport the precision of Gillette's trimming tool for a clean contour. The Gillette Styler trims and edges your facial hair with professional finesse. Engineered by Braun for exactness, this beard trimmer grants you refined lines around your beard, neck, and sideburns.
Its waterproof design lets you shape up in the shower, while the trio of combs offers customizable lengths. Simply pop on a comb for your preferred length. Compatible with Gillette 5-blade refills, it tackles body grooming too.
With versatile attachments and quiet efficiency, you'll achieve the well-groomed style you want. Portable and needing just one AA battery, it's a grooming staple. Though plastic combs may be less durable, this beard trimmer's effectiveness endures.
Waterproof and shower-safe
Interchangeable combs for length
Compatible with Gillette razor refills
Braun-engineered for precision
Compact and portable
Easy to use
Plastic combs less durable
Not rechargeable
3. Co2CREA Hard Case for Philips Norelco Multigroom 3000 5000 7000 Grooming Kit
View On Amazon
Tuck your Philips Norelco trimmer and accessories into a co2CREA replacement case for safe transport wherever you roam.
This EVA shell case with anti-static lining keeps your grooming kit secure against drops, dents, dust, and scratches. Designed specifically for the Multigroom 3000, 5000, and 7000 models, it accommodates the trimmer, charger, combs, and guards with handy compartments and a mesh pocket.
The quality case materials and zipper ensure your trimmer stays protected on trips near and far.
Hard shell protects against impact
Custom fit for Philips Norelco models
Anti-static lining prevents scratches
Multiple storage compartments
Durable exterior and zipper
Only fits certain Philips Norelco trimmers
Zipper may catch on liner fabric
Interior pockets could be bigger
4. Bevel Beard Trimmer for Men Cordless Rechargeable Adjustable Blade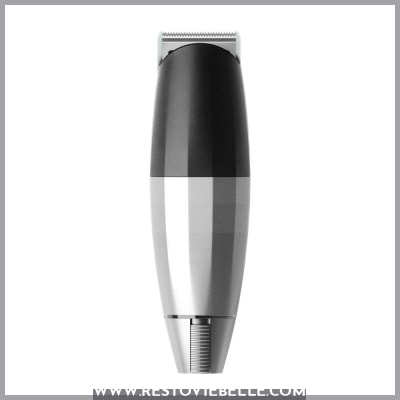 View On Amazon
Tool around with the Bevel cordless for adjusting that facial fuzz. The premium black design provides a sophisticated look, while the 6-hour battery ensures uninterrupted grooming. Adjust the zero-gapped blade for precision control and a comfortable shave. It's designed with expert barber insight and doubles as a versatile mustache trimmer.
Sleek, sophisticated design
Long 6-hour battery life
Adjustable zero-gapped blade
Expert barber-designed
Heavy and awkward feel
Mixed performance reviews
5. Kent R7T Apsley Comb Beard Care
View On Amazon
You can't go wrong with the Kent R7T Apsley Comb for your beard care routine – it's a real treat! Handcrafted in the UK since 1777, this pocket-sized comb's smooth, rounded teeth glide effortlessly through facial hair thanks to hand polishing the cellulose acetate construction.
The thumb grip grants control and precision when combing without irritating skin or pulling hairs.
Considered a lifetime, once-in-a-generation grooming investment despite the premium price tag, this comb tidies and conditions your beard on-the-go.
Premium handmade construction
Portable pocket-sized design
Smooth glide prevents skin irritation
Thumb grip offers precision
Expensive compared to drugstore combs
Small size could be easily misplaced
6. ZilberHaar Stiff Boar Bristle Beard Brush
View On Amazon
Feel the confidence of having a perfectly groomed beard with ZilberHaar's Stiff Boar Bristle Beard Brush. Crafted in Germany with 100% natural boar bristles, this high-quality brush effortlessly tames and softens the most unruly beard hair as it distributes oils.
Its compact size makes it ideal for travel while providing exfoliation and conditioning for optimal beard health and growth.
This durable brush will become an indispensable gift for the bearded man in your life.
High-quality materials and craftsmanship
Compact and portable
Conditions and exfoliates
Softens and tames the beard
Stimulates growth
Higher price point
Stiff bristles may be too harsh for sensitive skin
Small size not ideal for very long or dense beards
7. Andis Slimline Pro Li Cordless Clipper Trimmer
View On Amazon
For a professional, long-lasting trimming experience, the Andis Slimline Pro Li Cordless Clipper provides cordless convenience with powerful performance. Its lithium ion battery enables up to 2 hours of cordless runtime while the 6000 strokes per minute motor delivers smooth trimming.
The lightweight, ergonomic design offers easy handling and portability. With the included guide combs, this versatile trimmer suits detailing beards, mustaches, and haircuts.
Cordless convenience
Ergonomic and lightweight design
Long battery life of up to 2 hours
Powerful 6000 SPM motor
Mixed quality control reported
Battery may deteriorate over time
8. Philips Norelco Beard Trimmer Series 7200 Cordless
View On Amazon
Equipped with powerful suction and self-sharpening blades, the Philips Norelco trimmer lifts and captures hairs for quick, irritation-free grooming. As you work to perfect your faded beard style, this cordless trimmer offers great versatility and convenience.
The lithium-ion battery delivers up to 80 minutes of runtime per charge, so you can groom untethered.
Adjust the built-in zoom wheel to select your preferred length setting from 0.5mm to 10mm.
While reviews are mixed on the integrated vacuum system, it aims to capture most trimmed hairs to minimize mess. Consider the durability concerns reported by some users compared to previous models.
Cordless convenience
Long battery life
Adjustable length settings
Lift and trim technology
Mixed reviews on vacuum system
Durability concerns
Cleaning challenges
Preparing Your Beard for Fading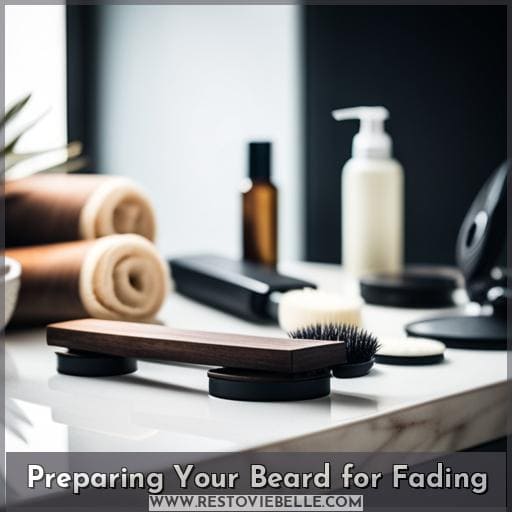 You've got the gear, now prep your 'stache for its fade destiny.
Wash and condition your beard with a gentle cleanser to remove dead skin and oils. Massage your preferred beard oil into the hair and skin to soften and tame wild hairs. Select your trimmer guard sizes based on your desired end length. Aim for a subtle, gradual fade rather than an extreme difference from hair to beard.
Define and trim your neckline into a clean U-shape from under the ears to the Adam's apple. This prep sets the stage for expert fading by establishing your baseline beard length and style.
With the canvas clean, you're ready to create with care, patience and the right tools.
Defining the Neckline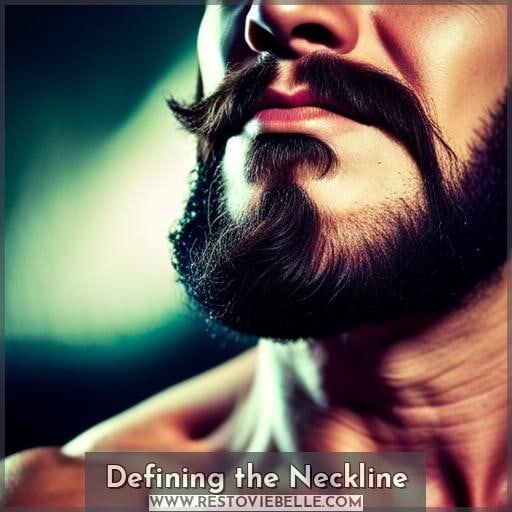 Define your neckline with a trimmer's flat metal head for a smooth transition. The neckline forms a U-like shape, connecting to the back of your ears. Follow this natural contour when outlining your beard's neckline. Use short upward strokes and a steady hand when trimming along this line.
Don't go too high or you'll disrupt your beard's fullness. Avoid angling too low, which can accentuate a double chin.
Take your time using an outlining trimmer to achieve a clean fade from beard to skin. Resist the urge to carve an overly high, unnatural neckline that doesn't complement your facial structure. Allow your beard's tapered nape to gracefully meet your neck for a professional finish.
When precisely defining the neckline, you enable the rest of your beard fade to take shape.
Fading Your Beard Sides

If the Cheshire Cat appeared during your fading sesh, he'd grin and quip, Don't fret, my furry friend, sideburns are easy as pie with the right tools handy.
Fading your beard's sides follows the same principle as the neckline. Gradually transition from longer to shorter lengths using your trusty beard trimmer's guard system. Start near your sideburn's peak and blend downward using clipper guards. Reduce the guard size by one notch at a time to create a subtle fade into your hairstyle.
Take care when edging the hairline to avoid choppy lines. Maintain a light touch, trimming slightly upwards into the hair growth. Let those feline whiskers be your guide. With careful strokes going with the grain, you'll achieve the ideal blend into your locks.
As any wise cat knows, patience leads to beard trimming purrfection.
Fading Your Beard Cheeks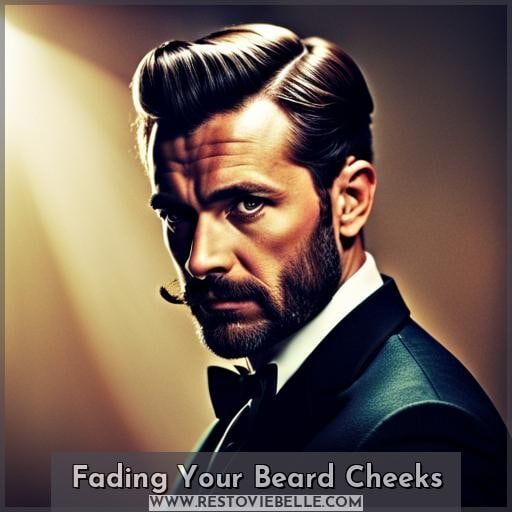 When fading your beard cheeks, use the grain of your facial hair as a guide. Trim in short, smooth strokes following the direction your hair naturally grows. This creates a subtle, seamless look as you taper from your preferred beard length down towards your cheek line.
Take care not to trim too short or create blunt lines which can look unnatural. Use your trimmer on a longer setting first, then gradually go shorter as needed. Be conservative – you can't put hair back once it's cut! Check both sides of your face and make symmetrical adjustments to maintain beard balance.
Perfect the cheek fade by practicing regular touch-ups every few days. With time, you'll be able to achieve a polished cheek line that accentuates your face shape. Remember, patience and precision are key. Avoid the urge to trim too much at once.
Focus on making subtle changes until you reach the desired cheek fade. You'll be rewarded with a flawless, professional style.
Achieving an Even Blend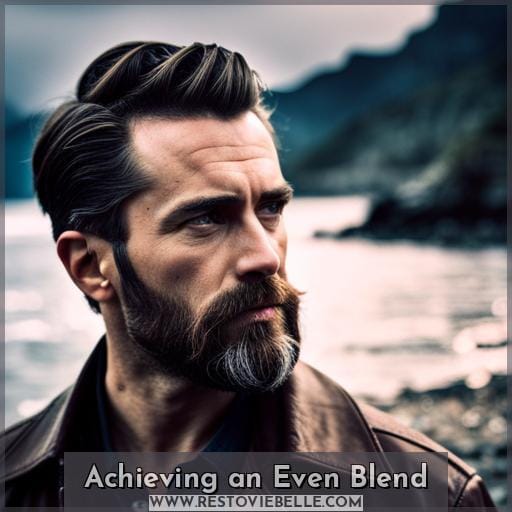 You'll master the method and manifest an imperceptible merge as your beard's length lessens. Achieving an even blend when fading your beard demands patience and practice. Focus on trimming precision, not speed.
Use the following techniques:
Take your time. Rushing causes uneven spots.
Trim in sections. Divide your beard into quadrants and blend one area at a time.
Use quality tools. Invest in pro-grade trimmers and combs for control.
Perfect angles. Tilt trimmer at precise angles to get smooth transitions.
Blending a seamless beard fade has its challenges but gets easier with experience. Maintain your look by retouching the fade every few days. Quality beard care products like oils and balms will keep your facial hair healthy and manageable.
With diligent upkeep, you'll master faded beard styles from scruff to full beard. Soon, people will think your impeccable blend came straight from a seasoned barber's chair.
Maintaining Your Fade

Keep your fade crisp by touching it up every couple of days with a quality trimmer. Frequent trimming is key for preventing your neatly faded beard from growing out and losing its shape. Set aside 5 minutes every other day to go over your cheek, neck, and sideburn lines with a trimmer to preserve the details.
Use the appropriate guard attachments and trim against the grain on your cheeks and downwards on the neck. Don't forget to define and tidy up the hard lines around your beard's perimeter.
Maintain the health of your facial hair with beard oil applied daily and consider using a boar bristle brush to distribute oils evenly. Keep stray hairs under control with beard balm or wax if needed. Stick to a simple beard care routine, and you'll keep your fade fresh.
The occasional visit to your barber for a professional shape-up can also help you maintain your desired faded style. With some diligent upkeep, you'll be able to rock your flawless beard fade for weeks on end.
Beard Fade Styles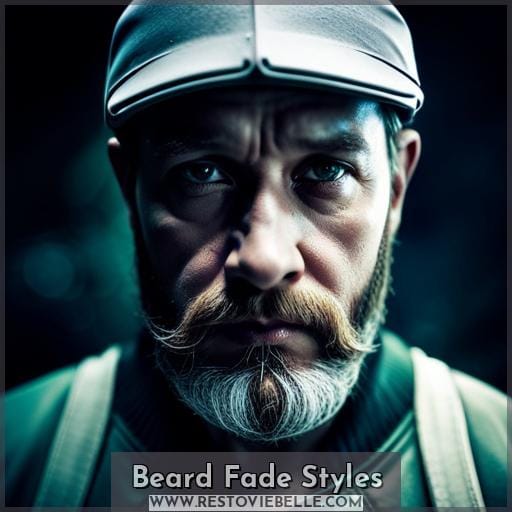 Consider a low skin fade for a bold, defined look as over 50% of men rock this style.
Here are 4 popular faded beard looks:
High fade – Shave the skin high up the sides for maximum exposure. Leave the beard full on the chin and mustache.
Mid fade – Fade about halfway up the sides. Ideal for shorter beards needing definition.
Low fade – Trimmed only slightly above the neckline. The most subtle yet versatile fade style.
Shadow fade – Leave stubble on the sides barely shorter than your beard. Gives a natural 5 o'clock shadow.
Fading shapes your beard's silhouette. Define lines using beard combs and length guards. Clean up the neck and cheeks. Maintain the fade's integrity by periodically evening out new growth.
Benefits of a Faded Beard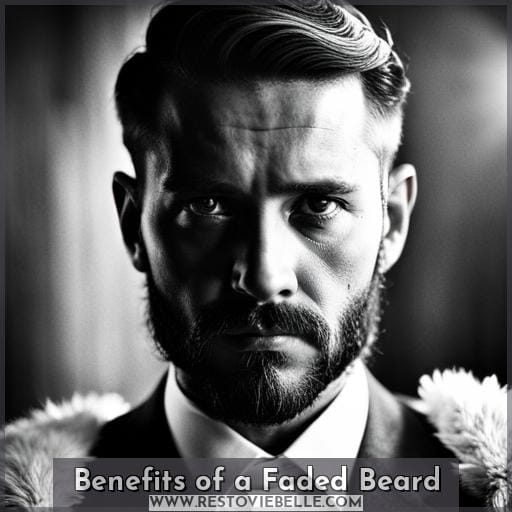 A faded beard can do wonders for enhancing your facial features and create a slimming effect on your face. Carefully blending shorter lengths on the sideburns and neckline into your longer beard accentuates your jawline, draws attention upward, and gives the illusion of a slimmer face shape while still allowing you to rock any beard length you choose.
Enhanced facial features
Your features find new definition through the frame of a faded beard. Well-sculpted lines soften hard edges, complementing bone structure. Shadow and light play across your face, highlighting strengths and minimizing flaws.
A framing fade slims the face, adding length. Stubble's texture sculpts the jawline, sharpening the jaw. Your beard's artful styling transforms you – a masterpiece emerging. Thoughtful grooming reveals inner light and confidence.
Slimming effect on face
Achieving a well-blended beard can help you look slimmer and more chiseled. The secret lies in beard grooming. Carefully fading and contouring facial hair creates definition that complements your bone structure.
Beard grooming tips for a slimmer face:
Maintain clean lines along your jaw, cheeks, and neck.
Keep your beard fade tight and high on the cheeks.
Fade down from your sideburns towards your jawline.
Taper your beard length gradually from top to bottom.
Elevating your beard trimming technique enhances your facial features for a slim, sculpted look.
Suitable for all lengths
You're going to love how a faded beard works for any length. Whether you're rocking a long beard or keeping it trimmed short, fading allows you to sculpt your facial hair for a polished, professional look.
Fades complement all beard lengths, from stubble to a yeard. Just adjust your clipper guards accordingly to create a subtle gradient that suits your style. Faded beards work well with any face shape too. Play with different cheek and neckline shapes to flatter your features.
Conclusion
In today's modern world, a well-groomed beard can be the perfect finishing touch to any look. Take, for example, the case of Tom, who wanted to achieve a polished, professional look with his beard fade.
He started by prepping his beard with a wash and comb, then used a standard trimmer to set his desired length. Once his neck and cheek lines were defined, he began the fading process using a trimmer with adjustable length combs.
He used a high-to-low guard principle with upward and downward motions to create a smooth transition, and then finished off with a subtle grade for a polished look.
With the help of these top tips and tools, Tom was able to achieve the perfect faded beard. Fading your beard can be an easy and effective way to elevate your grooming routine, and with the right technique, anyone can master the art of a well-faded beard.