This site is supported by our readers. We may earn a commission, at no cost to you, if you purchase through links.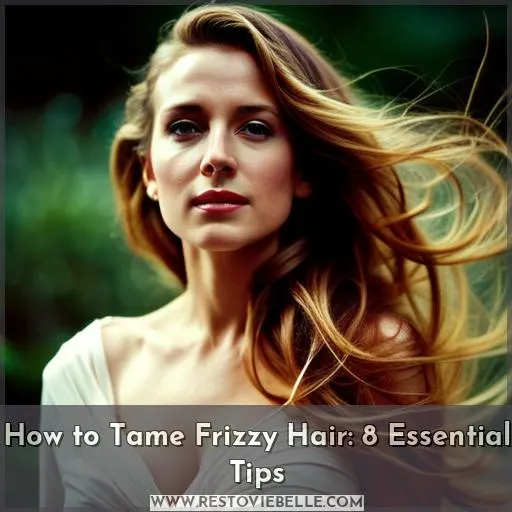 Trying to tame your frizzy hair can be like herding cats – it's a never-ending challenge. But don't worry, we've got you covered! Whether you have curly or straight strands, our eight essential tips will show you how to get rid of frizzy hair so that your locks look sleek and shiny all day long.
From the best shampoos and conditioners for fighting frizz to tricks for reducing friction in wet weather, learn everything there is to know about taming unruly locks with our guide on how to tackle stubborn flyaways.
Key Takeaways
Use sulfate-free shampoo and conditioner.
Apply masks weekly for hydration and protection.
Choose a suitable style for your hair type.
Shield strands from heat with protectants.
8 Best Shampoos and Conditioners for Fighting Frizz
Are you struggling with frizzy hair? Don't worry – there are plenty of great shampoos and conditioners available to help. From Garnier Fructis Curl Nourish Shampoo, John Frieda Frizz Ease Shampoo, Briogeo Frizz Smoothing Shampoo, OGX Argan Oil Shampoo, Herbal Essences Hello Hydration Conditioner Coconut, Botanic Hearth Keratin Argan Oil Conditioner, Moisturizing Conditioner for Dry Hair, and AQUIS Microfiber Hair Towel – there is something for everyone.
1. Garnier Fructis Curl Nourish Shampoo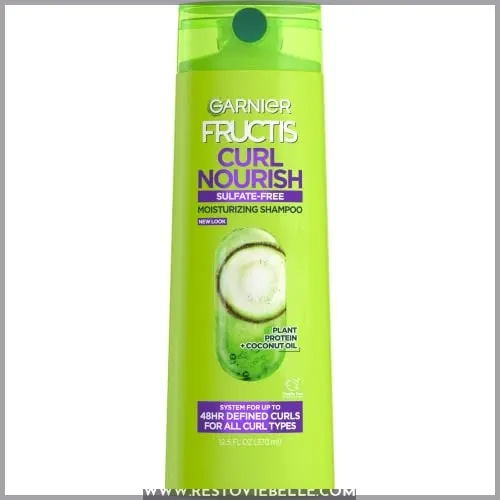 View On Amazon
For softer, more hydrated curls and control of frizz, try Garnier Fructis Curl Nourish Shampoo with its Active Fruit Protein and natural oils! This sulfate-free shampoo is gentle on hair while providing 48 hours of defined curls when used in conjunction with the conditioner.
Infused with plant protein and coconut oil, it also smells amazing thanks to a coconut scent that many users find delightful.
This product offers plenty for curly-haired individuals to love. Expect nourished locks that are stronger than ever before due to a blend of vitamins extracted from fruit along with other plant extracts.
And since the bottles (excluding pumps and caps) are made out of 100% Recycled Plastic, you can feel good about looking great as well.
Sulfate-Free & Cruelty-Free
Coconut scent & Leaping Bunny certified
Provides up to 48 hours of defined curls
Contains Plant Protein & Natural Oils
Bottles made out of 100% recycled plastic
Some may find the smell overpowering
Maybe too hydrating for very oily hair
2. John Frieda Frizz Ease Shampoo
View On Amazon
Experience the smooth silkiness of John Frieda Frizz Ease Shampoo as it wraps your hair in a luxurious hug and tames wild strands like a security blanket. For those looking to tame their locks and restore moisture, this is an excellent choice.
This daily nourishment shampoo is infused with silk protein and conditioning agents that improve hair texture while strengthening it from damage caused by heat or sun exposure.
Not only does this product instantly reverse 75% of surface dryness, but it is also suitable for color-treated hair, ensuring your vibrant hues stay just so!
Reverses 75% of surface dryness instantly
Suitable for wavy, curly, dry, thick, and damaged hair
Contains vitamins A and C plus green tea extract
Safe to use on color-treated hair
Some users find sulfates too harsh
Mixed reviews regarding effectiveness
3. Briogeo Frizz Smoothing Shampoo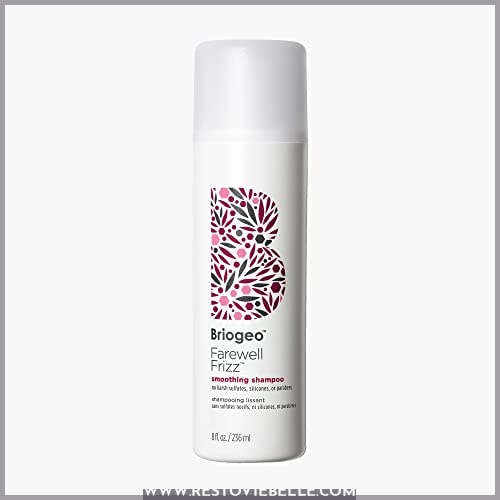 View On Amazon
Tame your frizz with Briogeo's Frizz Smoothing Shampoo, featuring a sulfate-free formula enriched with rosehip, argan, and coconut oils to lock in hydration for up to 48 hours. This shampoo cleanses the hair of excess oil and impurities while creating a protective barrier against heat damage and sun exposure.
Suitable for all hair types, including color-treated, keratin-treated, or chemically relaxed locks, this product also smells amazing thanks to its coconut essence scent.
The watery consistency can make lathering difficult, but once you find the perfect amount of product for your head size, you'll be rewarded with softer, more manageable curls that are full of life.
However, it should be noted that some users have experienced discrepancies between batches regarding scent, so exercise caution when shopping from non-reputable sources.
Sulfate-free formula infused with Rosehip, Argan & Coconut Oils
Protects against heat damage & sun exposure
Cruelty-Free Certified (Leaping Bunny)
Watery consistency may make lathering difficult
Possible discrepancy between batches regarding smell
4. OGX Argan Oil Shampoo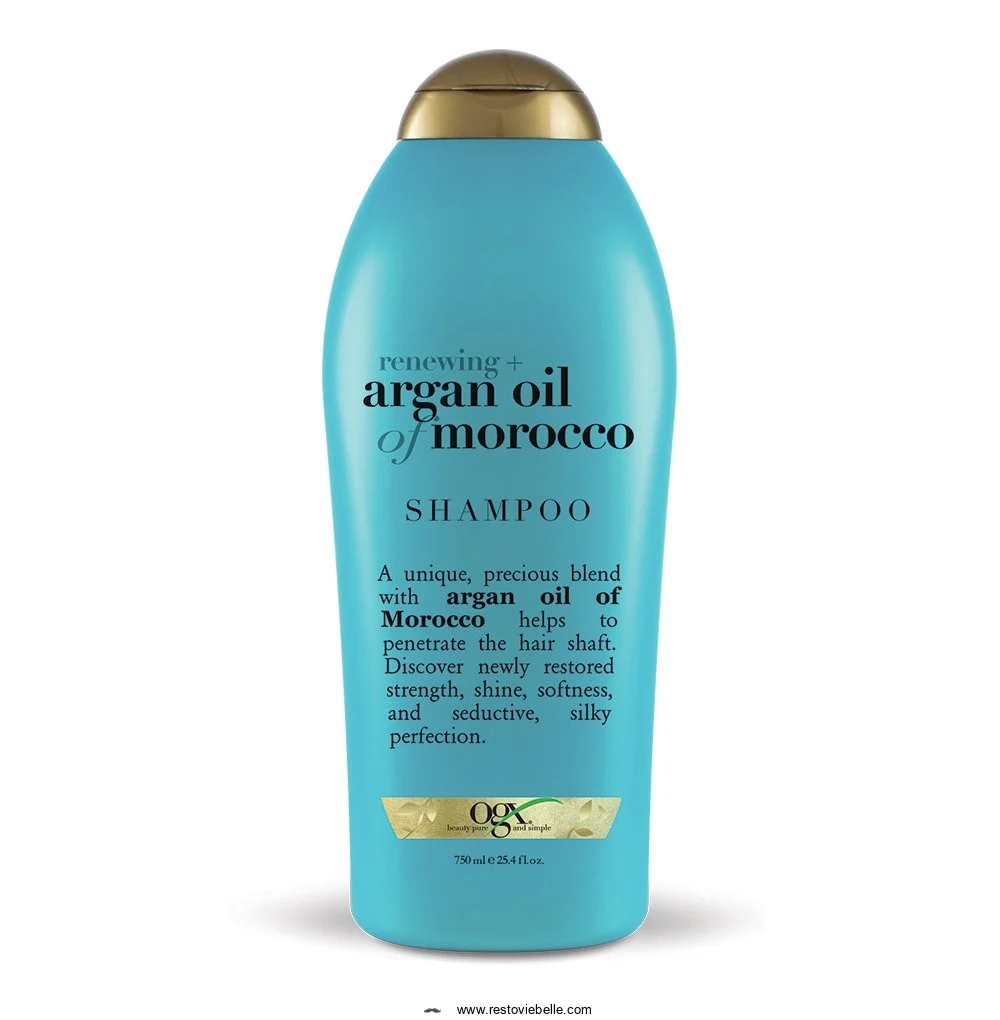 View On Amazon
Nourish your tresses with OGX Argan Oil Shampoo – an intensely hydrating formula designed to help reverse dryness and restore shine. Made by Vogue International in the USA, this shampoo contains argan oil of Morocco for superior strength and elasticity.
It's suitable for both virgin and bleached hair types without build-up or greasiness, as it is free from parabens and sulfates. Users love the citrus-fresh scent and find their hair feeling silky smooth after use.
This shampoo offers excellent value for money when used as part of a weekly routine. However, some users have noted that it doesn't add noticeable softness, despite being suitable for damaged, dry, brittle locks prone to frizzing up in humid climates.
It may not be best suited to those with very long hair due to its tendency towards tangling.
Despite these minor issues, many people switch back once they experience how well OGX Argan Oil Shampoo works on their mane – leaving them feeling more confident about styling their locks!
Hydrates & repairs dry/brittle hair
Contains natural oils like jojoba & argan oil
Improves strength & elasticity
Leaves no build-up or greasiness
Pleasant fragrance
May not work as well on very long/tangled hairs
Doesn't always provide noticeable softness
Not ideal if you prefer non-chemical products
5. Herbal Essences Hello Hydration Conditioner Coconut
View On Amazon
Revitalize your dry, damaged hair with Herbal Essences Hello Hydration Conditioner Coconut and its creamy coconut essence scent. This color-safe, pH-balanced conditioner is free of parabens, gluten, and mineral oil for a nourishing product that's suitable for daily use.
Suitable for extra-dry or overprocessed hair from keratin treatments to color processes – you can even create custom recipes using this conditioner! Customers report great results on thick wavy type 4 hair as well as wash and go hairstyles.
Enjoy the spa-like effect at home with one large bottle offering excellent value for money!
Color safe & pH balanced formula
Free of parabens & sulfates
Nourishes dry scalp care & enhances appearance of curly/wavy hair
Leaves hair feeling silky soft without build-up or greasiness
Pleasant coconut scent
Great value for money
Watery consistency makes it difficult to dispense from bottle
6. Botanic Hearth Keratin Argan Oil Conditioner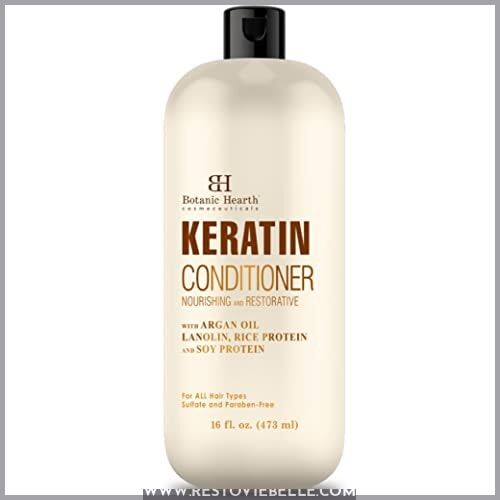 View On Amazon
Experience the power of Botanic Hearth Keratin Argan Oil Conditioner to smoothen frizz, seal in moisture, and fortify your hair for a healthy and soft look. This all-natural conditioner is free from parabens and sulfates, so you can enjoy its hydrating effects without any worry.
It's infused with keratin, which helps strengthen damaged locks while fighting against dryness. The conditioner is gentle enough for daily use on color-treated or keratinized hair types too! Users adore its pleasant scent and luxurious formulation.
Customers report great results when using this conditioner after showering as part of their regular routine.
Paraben & sulfate free
Gentle enough for daily use on color-treated or keratinized hair types
Pleasant scent & luxurious formulation
Difficult to dispense from the bottle
Broken cap upon arrival
Too thick to squeeze out
7. Moisturizing Conditioner Dry Hair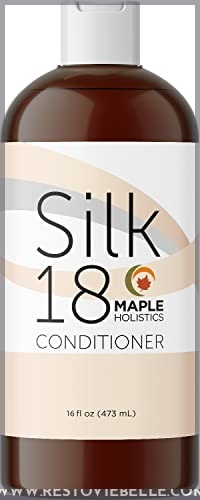 View On Amazon
Maple Holistics Moisturizing Conditioner for Dry Hair can help you restore hydration and smooth frizz for soft, manageable locks. This proprietary formula is specially designed for dry hair types. It features natural oils like jojoba and argan oil that penetrate the strand to provide essential moisture.
The conditioner is color-safe, paraben-free, and suitable for both men and women who prefer natural ingredients in their haircare routine.
The scent of this conditioner has been described as pleasant, and there have been positive reviews about how well it hydrates very dry hair without making it greasy or weighing down the strands. Some users even mention an added shine! However, there have been a few reports of difficulty dispensing from the bottle, so be sure to exercise caution when purchasing from non-reputable sources.
Provides moisture to dry hair and scalp
Suitable for both women and men
Contains natural oils like jojoba and argan oil
Color-safe formula
Leaves hair shiny without build-up
Difficulty dispensing
Some users report a crunchy feeling if too much is used
9. AQUIS Microfiber Hair Towel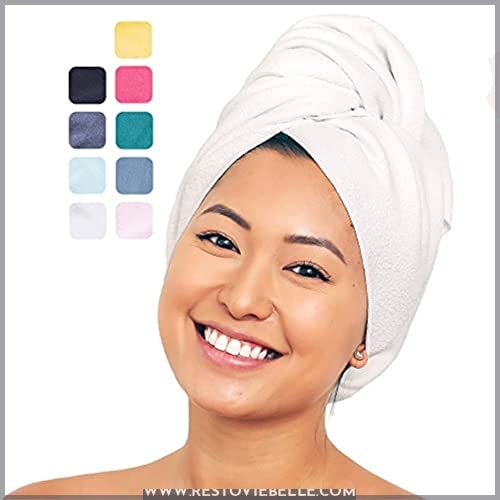 View On Amazon
Try the AQUIS Microfiber Hair Towel for a quick-drying, sustainable solution that can help reduce frizz and breakage. This towel is made from a proprietary fabric called AQUITEX, which strengthens hair up to 5x compared to traditional drying methods, eliminating damage caused by friction and heat.
It's easy to use too – plop or scrunch with it after showering to remove water quickly, or try using a hands-free method instead! Plus, its lightweight design means you won't feel weighed down while drying your hair.
With this microfiber towel, you'll have softer strands without compromising on style!
Strengthens hair up to 5x compared with traditional methods
Reduces frizz and breakage caused by friction & heat
Quickly wicks away water so there's no need for prolonged blow-drying sessions
Too small for very long hair types (consider getting longer version)
Mixed opinions on effectiveness
Price considered high by some users
Start With a Good Haircut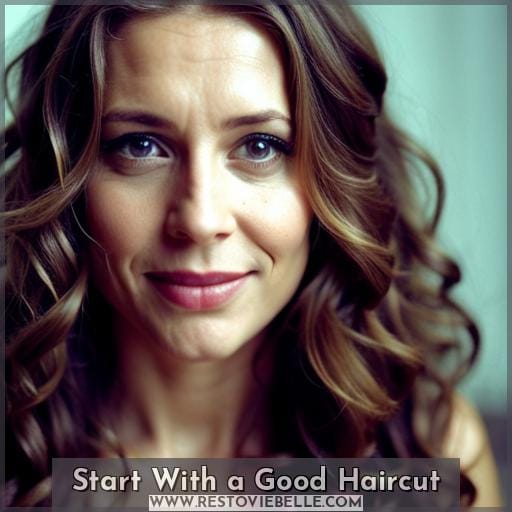 Start with a good haircut to help reduce frizz and take your hair game up a notch! Getting the right haircut can make all the difference when it comes to managing frizzy hair. Selecting an appropriate style that fits your texture, face shape, lifestyle, and climate is key for long-term frizz control.
Achieving smooth ends might mean getting regular trims or layers cut into longer lengths. For wavy or curly textures specifically, stylists may recommend dry cutting while keeping some of the natural volume intact in order to avoid losing curl definition, which can lead to more unruly strands later on.
Proper styling techniques are also essential for effective humidity management. Applying leave-in treatments with oils like argan oil helps protect against moisture loss, as does using heat tools on lower settings along with protective sprays beforehand if needed.
Finally, don't forget about creating a tailored hair care routine based around moisturizing shampoos and conditioners, plus weekly masks from time to time.
Wash and Condition Wisely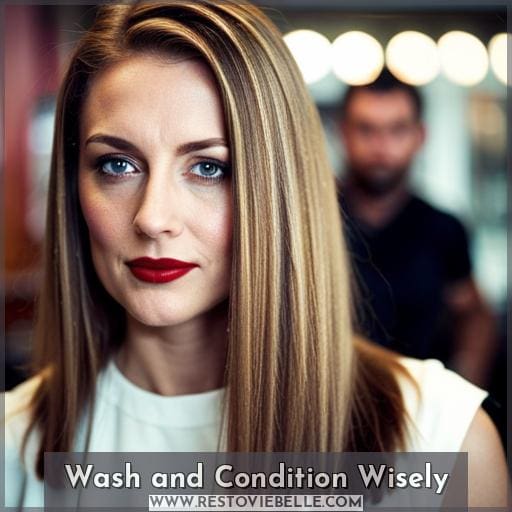 Choose a shampoo and conditioner that's designed to boost moisture and hydrate your tresses, like the OGX Argan Oil Shampoo – it'll help tame those wild locks! For even more frizz fighting power, consider coconut-based formulations like Garnier Fructis Curl Nourish or John Frieda Frizz Ease.
Also, make sure you use lukewarm or cold water when washing as hot water can actually make hair dry out faster. Conditioning is essential for helping keep hair soft and supple, so don't forget this step in your routine! Briogeo Frizz Smoothing Conditioner provides an extra layer of protection against humidity while nourishing with rosehip oil, argan oil, and other beneficial ingredients.
Herbal Essences Hello Hydration Coconut Conditioner will give parched strands some TLC while Botanic Hearth Keratin Argan Oil Conditioner seals in moisture all day long without weighing down fine textures with heavy silicones or butters.
For maximum moisturizing benefits, try Maple Holistics Moisturizing Dry Hair Treatment once per week followed up by Neutrogena Triple Moisture Deep Recovery Mask on damaged sections of hair for best results! Additionally, AQUIS Microfiber Hair Towel helps reduce breakage from traditional towels along with BioSilk Coconut Oil Treatment, which penetrates deep into the cortex to lock in nutrients where they are needed most, leaving behind a healthy sheen along with softer texture free from flyaways caused by excess static electricity due to lack of proper conditioning agents found naturally within these botanically derived formulas specifically formulated for frizzy unmanageable curls.
Mask the Frizz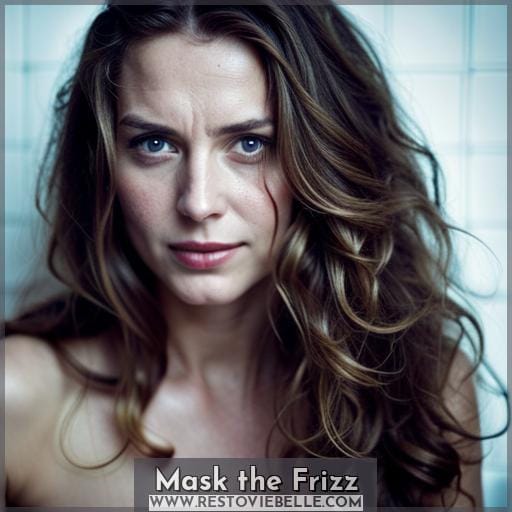 Once a week, pamper your hair with a nourishing mask to keep frizz at bay. Hair masks are an essential part of any haircare routine and can help maintain healthy locks while controlling frizz. With the right ingredients, these moisturizing treatments will restore hydration to dry strands and provide long-term protection from further damage caused by humidity or heat styling tools.
Look for anti-frizz products that contain natural oils like coconut oil or argan oil as they've been proven effective in promoting hair health while providing strong yet lightweight hold on curls and waves without leaving residue behind.
If you want stronger control over flyaways, opt for heavier formulas such as shea butter creams or deep conditioning mousses, which offer more intense moisture retention along with maximum style definition in humid weather conditions.
For best results, it's recommended to use shampoo first, followed by conditioner. Then, apply generous amounts of the mask – leave on anywhere between five minutes up until one hour, depending on what type of treatment you're going for.
Rinse thoroughly afterwards using lukewarm water only. Cold water helps lock in extra moisture.
Finally, be sure not to neglect your ends. Apply just enough product so that all strands get equal attention, but avoid heavy layering near the scalp area since this may lead to build-up, causing even bigger problems down the line – no matter how tempting it might seem! Use whatever works best according to individual needs and preferences.
Once found, follow through regularly following instructions provided, paying special attention after every wash session.
Reduce Friction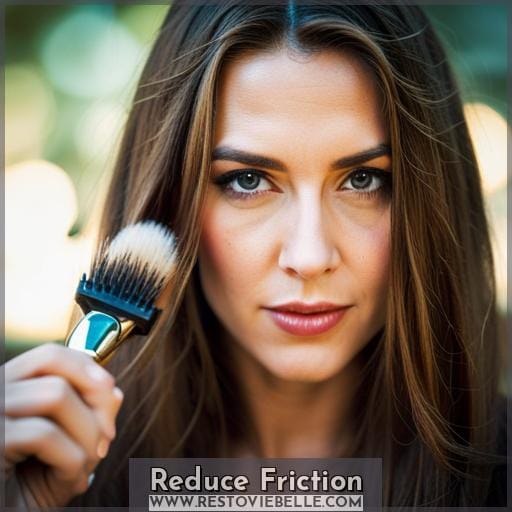 Tame flyaways with hairspray on a comb for reduced friction and a sleek look. Detangling hair can be difficult when it's frizzy, especially with regular brushes that snag in the knots.
To reduce friction and protect your strands from damage, use wide-toothed combs to gently brush down any frizz before using other styling tools.
Microfiber towels help too; these lightweight cloths dry quickly while absorbing excess water without creating static so that you won't have to battle through knots post-washing! For an emergency fix of flyaways, try using hand lotion instead of hairspray – just rub some into your hands first, then lightly work over areas where there's too much volume or unwanted texture.
With consistent care, including weekly deep conditioning treatments and getting regular trims, along with these strategies, you'll soon find yourself able to manage even stubbornly unruly locks without having them stand on end all day long!
Apply Stylers Strategically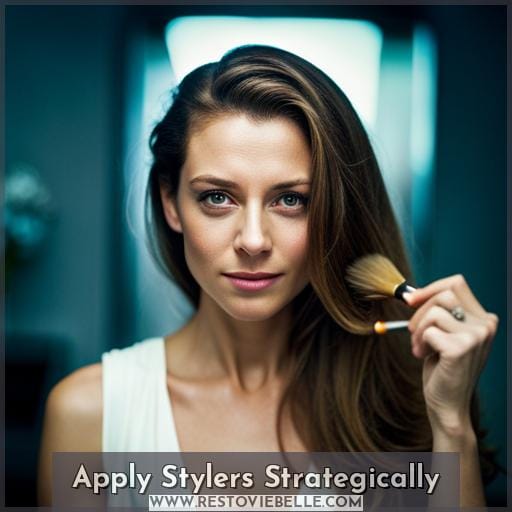 Once you've reduced friction on your hair, it's time to apply stylers strategically. You can use styling techniques like blow-drying with a diffuser, scrunching or plopping wet hair in a towel or T-shirt for curls and waves, and using heat protectants when needed.
When selecting haircare products to manage frizz, consider anti-humidity sprays that will help seal the cuticles of the hair shaft together during humid conditions, as well as leave-in conditioners which provide extra moisture without weighing down the follicle strands.
It is also important to be mindful about product selection depending on climate: opt for heavier creams if living in dry climates, while light serums are better suited for high humidity regions such as Florida and Louisiana.
Use all these products strategically – after washing your hair but before drying it – so that they can do their job more efficiently! Finally, create an effective haircare routine tailored around reducing frizz by incorporating all of these elements into one systematized regimen – aiming at keeping hydration levels balanced throughout your day while managing humidity appropriately — and enjoy healthy tresses again!
Shield Strands From Heat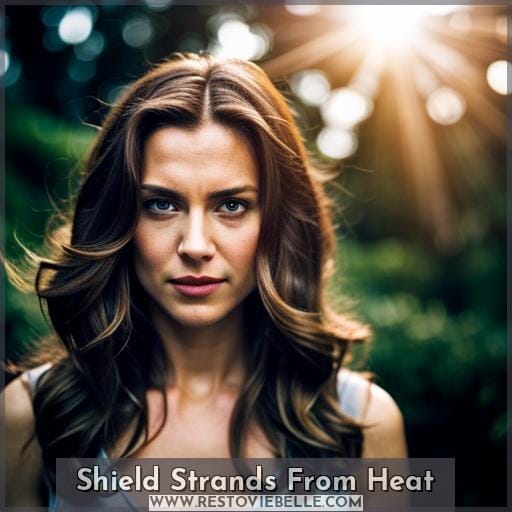 Shield your strands from heat damage by using a professional-quality hair dryer with an adjustable temperature setting and investing in products that contain heat protectants.
For instance, if you're heading out on a hot summer day, add a few spritzes of Oribe Impermeable Anti-Humidity Spray to help prevent frizz caused by high temperatures.
Heat protection is also important when straightening or curling the hair. Use styling techniques such as sectioning off smaller pieces for more control and always set the heat to medium or lower, depending on your individual needs.
When it comes to daily styling habits, opt for thermal haircare options like air drying whenever possible. This will reduce exposure to direct heat sources like blow dryers and flat irons, which can be damaging over time.
If you must use these tools, however, invest in ceramic-plated ones that evenly distribute heat without creating hotspots.
Additionally, consider using diffusers when blow-drying curly or wavy hair types as they provide extra volume while eliminating any potential frizziness associated with traditional methods of straightening or styling.
Finally, finish off any look with finishing sprays containing UV filters designed specifically to shield against environmental aggressors, which could cause further damage long-term.
With professional-grade products combined with proper care and maintenance, you'll be sure to keep your locks looking healthy and shiny no matter what style you choose!
Diffuse Your Curls

Diffusing your curls is a great way to reduce frizz and add volume while locking in moisture. A diffuser attachment helps evenly distribute heat around the hair, creating curl definition without excessive drying or heat damage.
To use, first apply an alcohol-free product that's designed for curl support like a leave-in treatment or styling cream before attaching the diffuser to your blow dryer. Start at the scalp and move outward with gentle motions until all of your hair is completely dry.
You can also use alternative methods such as using a regular old-fashioned air drying technique combined with scrunching motions from mid-length down for additional control over humidity levels. This will help prevent frizz caused by too much manipulation as well as static electricity from heated tools like curling irons and straighteners, which could cause further damage if not used sparingly throughout haircare routines.
For extra protection against humidity, try spritzing on some water mixed with conditioner onto wet curls after showering, then blotting it off gently but thoroughly with an absorbent microfiber towel. Follow up by lightly misting on an anti-humidity spray and running through strands quickly (not vigorously) with a cool setting of a low-velocity hairdryer fitted with even better yet, tossing in a few drops of essential oil into the bottle of water/conditioner mixture prior to application.
You might even consider investing in special Frizz Control Dryer Sheets that can be utilized between washes for fast relief when dealing with high temperatures outside!
Brush Down Frizz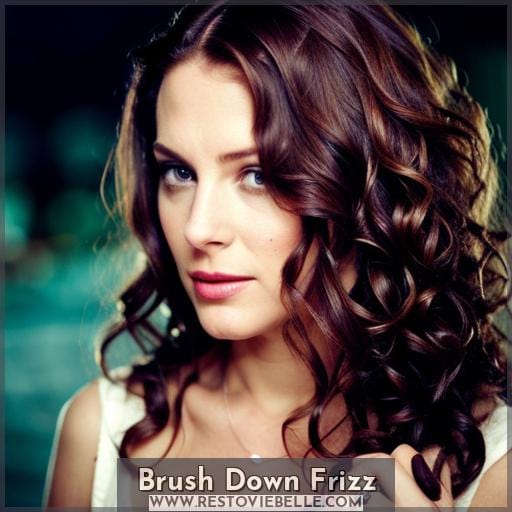 Brushing your hair regularly with a wide-toothed comb is like running a marathon: you have to pace yourself for optimal results. To effectively brush down frizz, start at the ends of your hair and work up towards the roots in small sections.
Use long strokes that don't tug too hard on strands and remove any tangles gently without ripping through them.
Once you reach the top of each section, twist it into place before moving onto another area. Using this technique will help evenly distribute oils from root to tip while preventing unruly flyaways or damage caused by excessive brushing.
It's also important to use products specifically designed for controlling frizz after brushing, such as leave-in conditioners or serums with natural ingredients like coconut oil or jojoba oil. These products help lock in moisture and smooth cuticles when used correctly alongside good haircare routines.
For example, avoid touching wet or damp hair, use microfiber towels instead of regular towels to dry off excess water after showering, and wear loose bun styles overnight secured by silk scrunchies.
Frizzy days can still happen, but embracing them occasionally can be part of what makes us unique! With time, these tips will produce healthier-looking tresses, making it easier than ever to manage those inevitable frizzy days.
How to Prevent Frizz: Expert Tips and Tricks

Transform your hair from frizzy to fabulous with these expert tips and tricks! Taking control of frizz is a lot easier when you understand the causes, prevention methods, and products suitable for your hair type.
Humidity plays an important role in how our tresses behave. High humidity can cause moisture disruption, which leads to frizz. Start by using anti-frizz products after showering or opt for a haircut that works best in humid regions.
Avoid hot showers as they raise cuticles, making them vulnerable to damage. Hydrating shampoos will help keep locks nourished even during drier seasons. Weekly masks made with oils like coconut or argan are great moisturizers. Drying gently with a towel turban post-shower helps retain essential hydration levels.
Silk pillowcases reduce friction between the surface of our head and bedding material, preserving manes' structure overnight too! Secure loose buns at night rather than tying tight knots. Gentle styling techniques go a long way here. Use wide-tooth combs instead of small ones to prevent breakage.
Keep heat tool usage minimal, but don't forget thermal protectants whenever needed.
So embrace occasional fizziness by building up a routine suited perfectly for both your local climate and preferred hairstyle.
Conclusion
Taming frizzy hair can seem like an impossible task, but with the right tips and products, it's easier than ever. Starting with a good haircut is key to preventing and managing frizz, and washing and conditioning wisely is just as important.
Hair masks, reducing friction, applying stylers strategically, and shielding strands from heat can all help to smooth out flyaways. Finally, using a microfiber towel, diffusing curls, and brushing down frizz can help keep your hair looking sleek and stylish.