This site is supported by our readers. We may earn a commission, at no cost to you, if you purchase through links.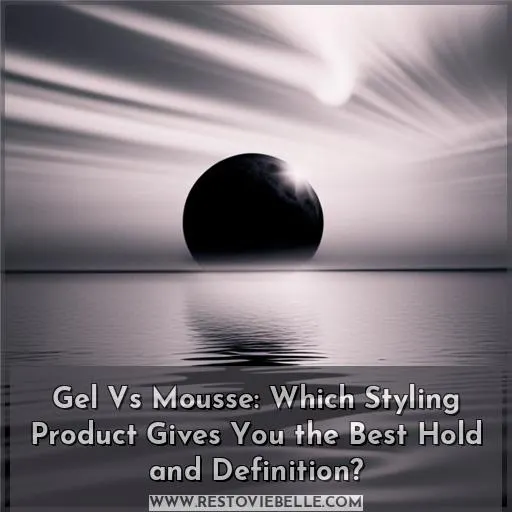 Gels give you serious control and mega-hold. But they can feel crunchy if you overdo it. Mousses are light as air and perfect for bounce. Yet they lack guts for curly cuts.
The truth? You need both – a mousse base to lift roots and a gel topcoat to set those spirals. Mix and match until you find your holy grail. Then revel in hair that makes you shine every single day.
But for now, go ahead – have fun, get messy. This is your time to find fabulous.
Key Takeaways
Gel provides a stronger hold and longer-lasting definition for tight curls compared to mousse.
Mousse gives a soft, touchable hold and enhances loose waves without stiffness. It adds shine, bounce, and movement to curls.
Apply gel to damp hair, distributing it evenly in sections from root to tip. Let it air dry or diffuse.
For mousse, squeeze out excess water first. Apply mousse in sections with your fingers.
What is Hair Gel?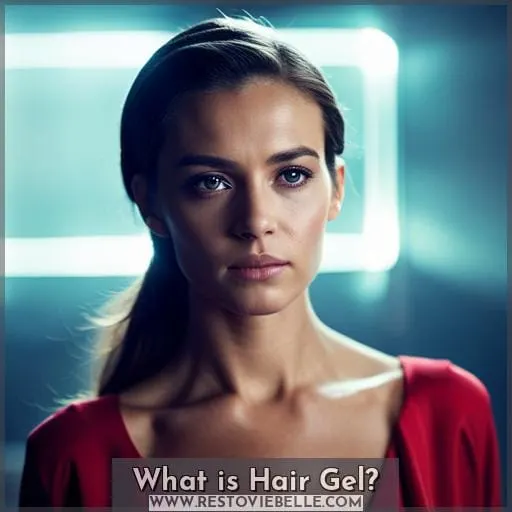 When using hair gel, you're applying a water-based styling product that contains polymers to help define and hold your hairstyle in place. It can be clear or colorful and includes active particles dissolved in a colloidal liquid substance.
Its thick consistency spreads easily over hair but quickly dries with air or sun exposure.
Gel is traditionally strong enough to hold a mohawk – but it works well with most hairstyles and hair types, adding definition and bounce to textured, wavy or relaxed hair. People with flyaways can achieve well-defined ringlets or poker straight styles with some help from a high-quality hair gel.
Benefits of Using Gel for Curly Hair

When it comes to styling curly hair, you know gels are the go-to for hold and definition. Let's explore why gels are a curly girl's best friend for achieving your ideal style. We'll look at how gels enhance and elongate curls compared to mousses so you can decide which one suits your hair.
Define Curls
You're in luck if you're trying to define your curls, as gel can help bring out your hair's natural texture and prevent frizz.
Gel provides long-lasting definition for curls without resulting in crunchiness or flaking.
Opt for lightweight gels with moisturizing ingredients that work well for your hair type.
Strong hold gels give curly hairstyles longevity and hold shape better throughout the day.
Reduce Frizz
Gels contain humectants that draw moisture into the hair shaft, keeping strands hydrated and reducing frizz. The hold from gel helps smooth the cuticle and prevent strands from puffing out. Gels form a protective coating that seals out humidity, preventing frizz caused by moisture in the air.
Many gels also contain oils, butters, and moisturizers added to condition hair, further reducing frizz. Applying gel to soaking wet hair and letting it air dry sets the curl pattern, minimizing frizz.
Provide Hold
You'll find gels provide better hold for curly hair than mousses do. Gels contain ingredients like aloe gel, flaxseed gel, and polysaccharides that coat hair strands to lock in style. While mousses may feel lighter, they lack the strong polymers needed for lasting, touchable hold.
Applying Gel to Curly Hair

First, dampen your curls before applying gel. Then, distribute the gel evenly throughout sections of your hair, scrunching up to the roots as you go. Once your hair is completely dry, scrunch out any hard cast that forms to reveal soft, defined curls.
Dampen Hair First
Before applying gel to curly hair, you're best off dampening your hair first. This allows the gel to evenly coat and absorb into each strand. Lightly mist hair with a spray bottle or wet hands, then smooth the gel through in sections.
Don't saturate hair, just dampen it so the gel distributes evenly from roots to ends.
Distribute Gel Evenly
Next, work the gel evenly through your hair to coat each curl. Smooth a small amount between your palms and glide it along the lengths, from root to tip. Rake and scrunch it into soaking strands for maximum frizz control. Distribute it through every layer, ensuring complete saturation and definition without stickiness.
Take your time sectioning hair to get an even layer without missing spots. Vary your sectioning technique – try zig-zagging, horizontal, or vertical parts to make sure every strand gets coated. Finger coil any unruly pieces to encourage curl formation. Diffuse or air dry as usual for smooth, defined strands that last all day.
Scrunch Out Crunch
After distributing the gel evenly through your curls, you'll want to scrunch out the crunch once your hair is completely dry.
Apply a lightweight oil like argan oil to your palms.
Scrunch your curls upward from the ends.
Continue scrunching until the cast is broken up.
Scrunching removes stiffness from the gel and brings out your natural curl pattern and shine.
What is Hair Mousse?

Mousse is a hairstyling foam with a lightweight, aerated texture. It goes on light, adds volume, enhances curls, and dries soft.
Mousses help shape curls, reduce frizz, add shine, provide soft hold, and make hair more manageable. They spread easily through hair and dry quickly without flakes or residue. They're moisturizing, define curls, and give hair a flawless finish.
Unlike thick gels, mousses won't leave hair crunchy or sticky. Their lightweight formulas smooth hair cuticles to reflect light and minimize frizz. Mousses give hair soft, touchable texture and movement. They're great for pumping up fine or flat hair too.
Overall, mousses are versatile styling products providing soft, touchable hold and beautiful definition, movement, and shine. Their lightweight formulas ideal for curl enhancement and frizz control with a flawless finish.
Using Mousse on Curly Hair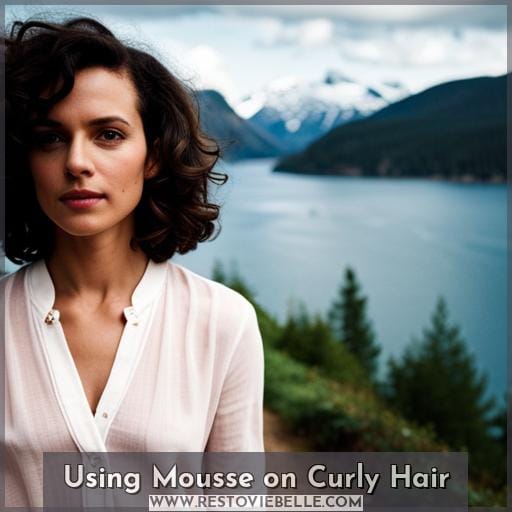 When using mousse on curly hair, it's key to squeeze out excess water before applying it with your fingers. Be sure to use the right blow dryer and diffuser attachment to lock in curls. Opting for a light hold mousse will keep your curls touchably soft yet still defined.
To define curls without making them crunchy, scrunch in a nickel-sized dollop of a lightweight curl-enhancing mousse after towel drying hair. Focus on mid-lengths and ends, raking product through with fingers. Let hair air dry or diffuse using a diffuser attachment on low heat and speed settings to encourage curl formation.
Mousse helps provide hold while enhancing natural texture, without leaving hair stiff or sticky. For best results, look for an alcohol-free formula with moisturizing ingredients like shea butter or aloe.
Squeeze Out Excess Water
Gel vs Mousse: Which Styling Product Gives You The Best Hold and Definition?
What is Hair Mousse?
Squeeze Out Excess Water (Using Mousse on Curly Hair)
When using mousse on curly hair, it's crucial to start with hair that's been towel dried to remove excess moisture. You don't want your hair dripping wet or even damp when applying mousse. The extra water will dilute the mousse, reducing its hold and definition.
Squeeze out excess water from your curls using an old t-shirt or microfiber towel. Scrunch your hair gently to soak up moisture. Remove water rather than disturb your curl pattern.
Some tips for best results:
Squeeze hair in sections to thoroughly remove moisture
Avoid rough toweling that can cause frizz
Use an absorbent, soft material like microfiber
Scrunch and squeeze, don't rub harshly
Don't over-dry hair, leave some dampness
Apply mousse immediately after removing excess water
Starting with properly squeezed out hair ensures the mousse can adhere to strands. This allows it to provide maximum frizz control, definition, and hold. The mousse won't become diluted or slide off wet hair.
Define curls, add volume, provide hold
Reduce frizz, smooth flyaways
Moisturize and condition
Create beach waves or bold curls
Refresh curls between washes
gel vs mousse
squeeze out excess water
Apply With Fingers
Apply the mousse to wet hair section-by-section using your fingers to distribute it evenly from roots to ends.
| Hair Type | Works Best For | Hold Level |
| --- | --- | --- |
| Fine, Thin | Defining curls, reducing frizz | Light |
| Medium | Soft hold, pliable curls | Medium |
| Coarse, Thick | Maximum frizz control | Strong |
Some ingredients like aloe vera and marula oil provide the needed moisture. Using your fingers allows you to coat each strand and avoid mousse clumping in sections.
Use Right Blow Dryer
You want to use the right blow dryer when using mousse on curly hair. The key is utilizing a diffuser attachment to gently dry curls without causing frizz. Focus the airflow on sections, moving the diffuser around to evenly distribute heat.
Utilize a low or medium heat setting and don't over-dry. Diffusing will help set the curls and prevent them from falling flat as they air dry.
Gel Vs Mousse for Curls: Which is Better?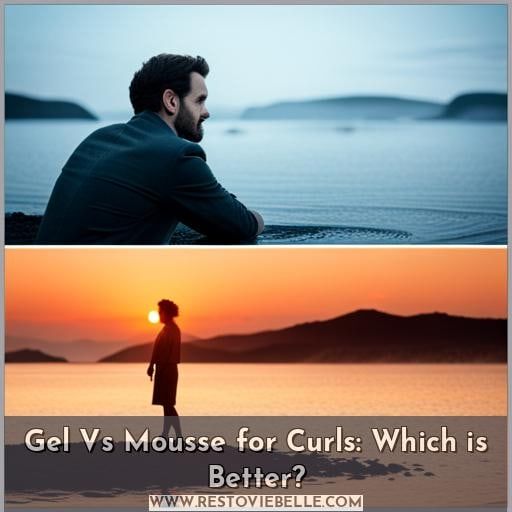 After learning how to use mousse on curly hair, you're probably wondering whether gel or mousse is better for defining your curls. Choosing between gel and mousse depends on your specific hair type and needs. Gels provide greater hold and definition, while mousses are lightweight with a more soft, touchable texture.
For precision coils, tight curls, or slick styles, gel may give you the control and longevity you need. Opt for gels with moisturizing ingredients to avoid crunchiness. If your curls are loose or more wavy, mousse can enhance shape and cut down on frizz without weighing hair down.
Look for pliable, non-sticky formulas. Ultimately, it comes down to experimenting with your hair's porosity and curl pattern to see which gives you the bounce, definition, and manageability your locks need.
Conclusion
So there you have it, dolls – gel vs mousse. It really comes down to your personal hair vibes. Gel's got that fierce control for defined curls and edges to die for. But mousse is more of a party girl – she brings soft, touchable texture and a little somethin' somethin' to play up your natural waves and coils.
Only you know which one complements your mane the best. For me? I like spiking my curls with gel, then fluffing in some mousse for hold and movement – the perfect mashup.
If you're feelin' fancy, mix and match until you find your custom cocktail. That's the beauty of gel versus mousse – they play nice together when layered.