This site is supported by our readers. We may earn a commission, at no cost to you, if you purchase through links.
Ah, the life of a teenage boy. The days are filled with awkward conversations and fumbling attempts at growing up – or so I'm told. One such task is learning how to shave properly, which if done incorrectly can lead to painful razor burn and irritation.
But have you ever wondered: Can you use lotion as aftershave? In this article we'll explore the ins-and-outs of post-shaving products like aftershaves balms, colognes, and yes – even lotions! We'll discuss what ingredients they should contain (and those to avoid), their benefits on freshly shaved skin, as well as provide instructions on application.
So buckle up boys – let us help guide your transition into adulthood with smooth sailing ahead!
Key Takeaways
Aftershave lotion is important for protecting against razor burn and irritation.
There are two main aftershave ingredient options: alcohol-based or natural.
Natural alternatives like aloe vera and jojoba oil can provide moisturizing benefits.
Choosing the right aftershave or lotion alternative is crucial based on skin type and ingredients.
What is Aftershave?

After a good shave, you can calm and disinfect your skin with aftershave balms or lotions that are formulated to moisturize while reducing itching and swelling. Aftershaves provide many benefits, such as soothing irritation from razor burn and calming inflammation due to shaving cuts.
They also help prevent folliculitis caused by bacteria entering the pores during shaving and add a pleasant scent.
Alcohol-based aftershaves contain isopropyl or ethyl alcohol, but natural ingredients like vitamin E oil, shea butter, and aloe vera can also be beneficial for sensitive skin types prone to irritation.
Tea tree oil has antiseptic properties perfect for acne-prone skin, while witch hazel offers an astringent effect that helps close open pores post-shaving.
Applying too much of any product may cause more harm than good, so it's important to find the best routine tailored specifically for your skin type. This applies whether you're using traditional products or alternatives like body lotion containing hydrating Shea Butter in place of harsher alcohols.
Before using any product, analyze its ingredients to ensure it's suitable for your skin.
With these considerations in mind when choosing an aftercare routine, you'll be sure that whatever decision you make will help nourish delicate facial tissue without further irritation.
Aftershave Ingredients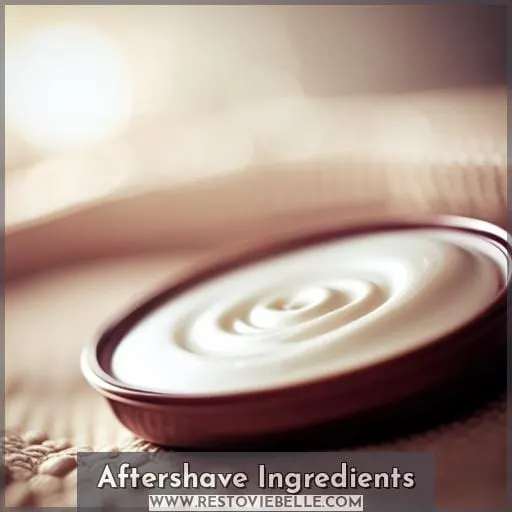 When it comes to aftershave, you have two main options for ingredients: alcohol-based or natural. Alcohol-based aftershaves typically contain isopropyl alcohol or ethyl alcohol and can be quite harsh. Natural options like vitamin E oil, shea butter, and aloe vera, on the other hand, are gentler on skin.
Alcohol-Based
You're wondering if that soothing body lotion can stand in for harsh aftershave. Many alcohol-based aftershaves contain ethyl alcohol or isopropyl alcohol.
Aloe vera gel
Jojoba oil
Natural witch hazel
These options hydrate without alcohol's sting. Seeking skincare that nourishes your unique complexion is recommended. With thoughtful choices, you can find effective, non-irritating post-shave care.
Natural
Consider the velvety touch of soothing pure shea butter on freshly shaved skin. Look for lotions with natural moisturizers like aloe vera, tea tree oil, vitamin E, and jojoba oil. These plant-based ingredients hydrate the skin and have antiseptic properties that prevent razor bumps.
Shea butter is an ultra-nourishing emollient extracted from the nut of the African shea tree. Apply a thin layer of hydrating lotion post-shave instead of harsh alcohol splashes.
Is Lotion a Good Aftershave?

While some heavier body lotions may provide intense hydration after shaving, you'll want to be cautious about potential pore-clogging and look for a lightweight, fast-absorbing facial lotion. Opt for a lotion specially formulated for the face instead of standard body creams that can weigh down delicate facial skin and clog pores.
Analyze the ingredients before application to find a suitable lightweight moisturizer you can comfortably use as a facial aftershave.
Heavy Lotions
While our daily moisturizer suits your mug, opt for a lighter lotion post-shave lest pores feel the plug. After a scrape, seek soothers free of hefty oils that could clog and cause new woes. Aloe's cooling caress calms razor's rash while fast-absorbing formulas hydrate without pore block.
Balance skin's moisture without overdoing it – protect with a sheer veil of gentle, hydrating lotion. Your skin craves calm post-shave – an ungreasy lotion's light touch prevents irritation and dryness while keeping pores clear.
Light Lotions
Soothe that freshly shaved face quickly with a dab of light lotion. Unlike heavy creams, lighter lotions absorb fast without clogging pores. Look for hydrating ingredients like aloe vera to moisturize and vitamin E to nourish the skin.
Scents like lavender or citrus provide a subtle aromatic effect. Test lotions on a small area first to ensure skin compatibility. With continued use, notice improvements in softness and texture. Opt for light lotions to reap nourishing benefits without greasiness.
Applying Aftershave

Rinse your face with cold water once you're done shaving, then pat dry gently before you smooth on a thin layer of aftershave.
When applying aftershave:
Use a nickel-sized amount and massage in using gentle, upward strokes. Avoid rubbing.
Focus application on shaved areas like the cheeks, jawline, and neck.
Allow the aftershave to fully dry before additional skincare steps.
Reapply lightly throughout the day as needed for fragrance or hydration.
Experiment with alcohol-free aftershaves with skin-nourishing ingredients if you deal with sensitivity or razor burn. Stay hydrated and moisturized for optimal regrowth of skin tissue post-shave. Finding the right aftershave takes some trial and error but is worth it for irritation-free, smooth skin.
Considerations for Aftershave

When selecting an aftershave, prioritizing skin health is key. Analyze the ingredients to find soothing, hydrating options that prevent irritation, considering even gentle body lotions – just ensure they won't clog pores or cause acne.
It's important to read the ingredients carefully when choosing an aftershave, looking for soothing and hydrating components while avoiding anything that could clog pores or lead to breakouts. Gentle body lotions can also be an option for sensitive skin, as long as they are non-comedogenic and won't trigger acne.
Focusing on skin-nourishing, anti-inflammatory ingredients will help prevent the burning, itching and discomfort that can occur after shaving. With some research into the formulation, you can find an aftershave that calms and replenishes freshly shaved skin.
Aftershave Irritation Prevention
Moisturize deeply to prevent the burn. Hydrating well after you shave helps prevent irritation. Opt for a gentle, fragrance-free moisturizer applied to damp skin. Look for soothing ingredients like aloe, jojoba oil, or vitamin E.
Light, non-comedogenic lotions work well if pores clog easily. With proper moisture care, you can avoid razor bumps and enjoy smooth, happy skin.
Moisturizing Aftershave Alternatives
Shea butter – Deeply moisturizes and nourishes skin. Calms inflammation.
Aloe vera gel – Soothes and hydrates irritated skin. Has natural healing properties.
Jojoba oil – Mimics the skin's sebum. Softens and moisturizes without clogging pores.
Natural lotions – Look for gentle, fragrance-free lotions with oils and ceramides.
Cold cream – A traditional emulsion of oils and waxes that protects and hydrates skin.
Analyzing Lotion Ingredients Safety
Check those lotion labels before smearing it on your face after shaving.
| Ingredient | Benefit | Concern |
| --- | --- | --- |
| Fragrance | Pleasant scent | Irritation |
| Dimethicone | Protects skin | May clog pores |
| Isopropyl alcohol | Disinfects | Drying, irritation |
Reading labels helps match lotions to your skin type. Seek hydrating, soothing ingredients that nourish without clogging. Your face will thank you for taking the time to pick the right aftershave alternative.
Aftershave Alternatives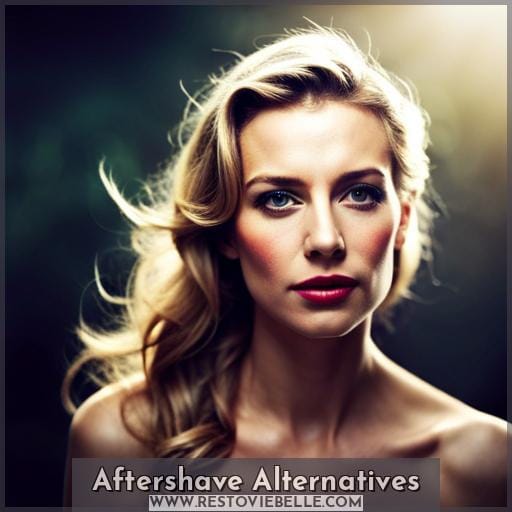 If your skin is feeling parched after a shave, try giving it the nourishment and hydration of an aftershave alternative like Truefitt & Hill's Sandalwood Aftershave Balm or Jergens Pure Shea Body Lotion.
Truefitt & Hill Sandalwood Balm – Soothing aloe and lanolin provide instant hydration.
Nivea Smooth Sensation Lotion – Lightweight and fast-absorbing for normal to dry skin.
Lubriderm Daily Moisture Lotion – Contains vitamins B5 and E for extra nourishing.
Cetaphil Moisturizing Lotion – Fragrance-free and gentle for sensitive skin.
CeraVe Moisturizing Cream – Formulated with ceramides to restore the skin barrier.
When choosing a lotion alternative to aftershave, analyze your skin type and ingredient preferences. Look for lightweight formulas that provide instant hydration without clogging pores.
Conclusion
As the saying goes, an ounce of prevention is worth a pound of cure, and that is certainly true when it comes to using lotion as aftershave. While lotion may offer some benefits for those with dry skin, it's important to consider the ingredients and how they may impact your skin.
Heavy lotions may clog pores, while lighter lotions may not provide enough protection and hydration. For best results, opt for a natural aftershave product that's tailored to your skin type and provides the protection and moisturizing benefits you need.
Remember to rinse, pat dry, apply a small amount evenly, and use sparingly for the best results when using lotion as aftershave.