This site is supported by our readers. We may earn a commission, at no cost to you, if you purchase through links.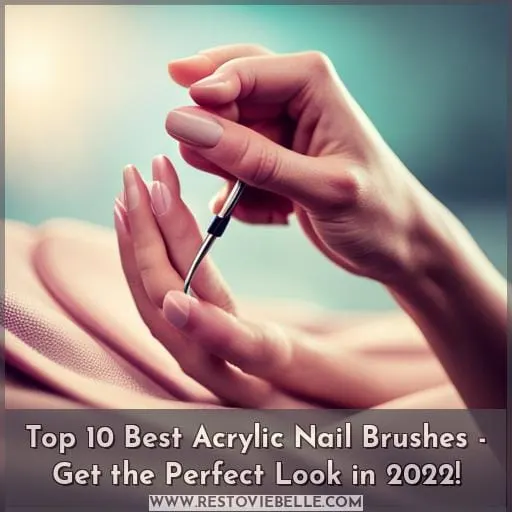 Are you looking to achieve the perfect look with acrylic nails in 2022? You'll need the right tools for this job, and choosing a top-notch acrylic nail brush is just as important as selecting quality products.
Finding the best can be overwhelming, but don't worry! We've done all of the research for you and compiled a list of our favorite 10 best acrylic nail brushes – from the Makartt Nail Art Brushes Set to the Mia Secret Kolinsky Brush Size 8.
Read on to find out how to choose an amazing brush that will last, plus learn why having one is so critical.
Key Takeaways
Makartt set has 3k+ reviews, aluminum handles/caps, Kolinsky bristles, roll-up case
PANA USA size 8 alloy tube holds hair firmly, pre-packaged
Pieces set affordable, mink/fiber bristles, lightweight handles, densely packed
Modelones size 8 sweat-resistant, round head good for extensions/nail art
Top 10 Best Acrylic Nail Brushes
Looking to get into acrylic nails? Choosing the right brush is essential for a successful nail art experience. With this in mind, we've compiled 10 of the best acrylic nail brushes on the market.
Makartt Nail Art Brushes Set
PANA USA Acrylic Brush Kolinsky 8
Pieces Kolinsky Acrylic Nail Brush
Modelones Acrylic Brush Size 8
KADS Kolinsky Sable Acrylic Nail Brush
Saviland Acrylic Nail Brushes
Beaute Galleria Kolinsky Sable Nail Art Brush Set
MGGSUG Kolinsky Acrylic Nail Brush
Mia Secret's Kolinsky Brush Size 8
Whether you're just getting started or are an experienced hand at creating intricate designs, there's something here for everyone!
Makartt Nail Art Brushes Set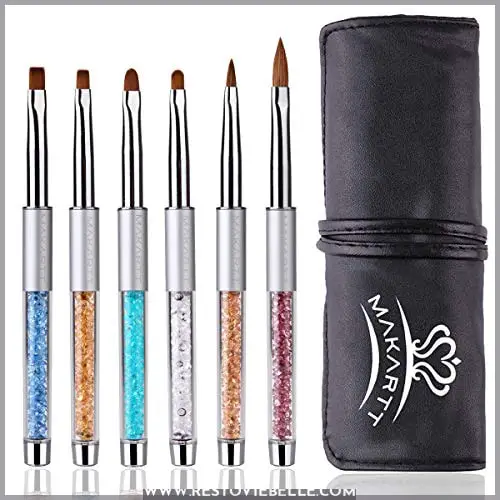 View On Amazon
You'll love the Makartt Nail Art Brushes Set – with over 3,000 positive reviews, it's a great choice for any nail artist. It has aluminum handles and caps and Kolinsky sable hair brush heads that won't shed easily.
The brushes are perfect for acrylics, gel nails, or detailed designs made up of oils or watercolors. They pick up paint well while avoiding clumps from forming on the bristles and help you create precise lines, no matter how intricate your design is.
And since these brushes come in different sizes (2 – 8), they can be used by both beginners just starting out as well as those who already have some experience working with acrylics.
Over 3K positive reviews
Aluminum handles/caps & Kolinsky sable hair brush heads
Convenient roll-up PU leather case
Perfect for acrylics/gel nails & detailed designs using oils/watercolors
Picks up paint without clumping
Quality control issues reported (bristles shedding / dents on handle)
Need careful cleaning to maintain shape
PANA USA Acrylic Brush Kolinsky 8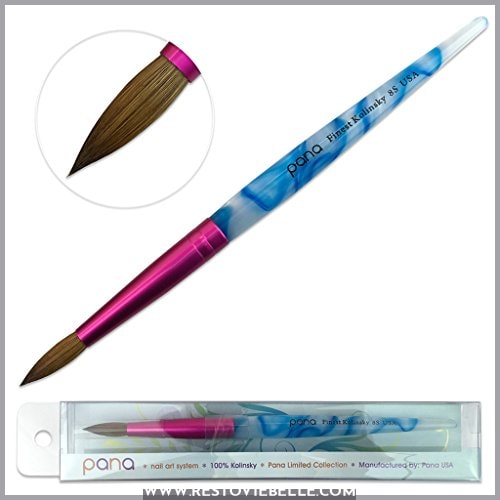 View On Amazon
You can achieve perfect nail art with PANA USA's Acrylic Brush Kolinsky 8. It features a white swirl blue acrylic handle and a size 8 brush head for precise application. This brush is suitable for both experienced technicians and beginners alike. The densely packed bristles make it easy to pick up beads without getting stuck.
The alloy tube firmly holds the hair in place while being sweat-resistant and comfortable to hold. It also comes pre-packaged, so it will last up to one year when properly maintained.
Reviews are overwhelmingly positive about its quality performance, but some users have reported issues with fraying or a hole appearing in the handle after continued use of this product.
Soft & flexible bristles
Long-lasting shape
Sweat-resistant & easy handling
Quality control issue
Bristle fall off easily
Hole may appear on handle
Pieces Kolinsky Acrylic Nail Brush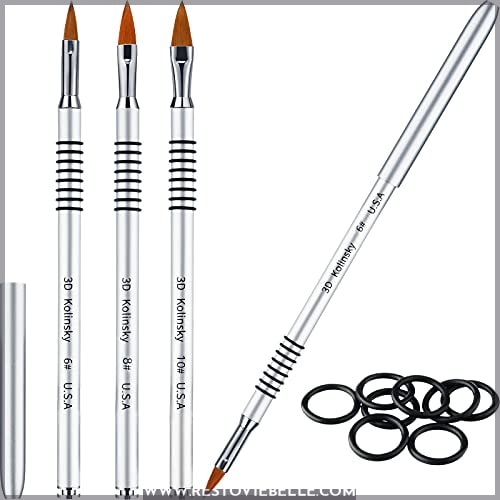 View On Amazon
The Pieces Kolinsky Acrylic Nail Brush offers a great value with its three-brush set. It features mink fur and fiber bristles for an effortless application. The brush has a lightweight oval silver metal handle with a black non-slip ferrule, providing comfortable control.
This brush is perfect for both professionals and beginners. It is durable and flexible enough to last for months if properly cared for after each use. To clean it quickly, use brush cleaner to prevent it from drying out or losing its shape.
The set comes in three different sizes, allowing you to experiment with bead size without fear of ruining your manicure. The Pieces Kolinsky Acrylic Nail Brush is not only ideal for nail art but also for other painting mediums like oil paints or watercolors.
Value bundle – 3 brushes at an affordable price
Soft & flexible bristles – easy to apply acrylic products
Durable & long lasting – clean regularly with brush cleaner
Versatile uses – perfect for not only nails but also other painting mediums
Different sizes available – experiment with bead size without worry
Bristles flair out easily with use
Silicone rings slide when adding protectors
Protector has a small hole making bristle drying difficult
Modelones Acrylic Brush Size 8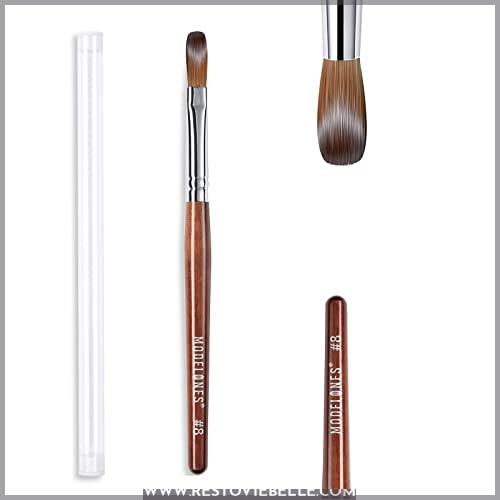 View On Amazon
Experience the sweat-resistant and easy-to-handle Modelones Acrylic Brush, made with 100% Kolinsky Sable Hair for a smooth painting application. Perfect for nail professionals and beginners alike, this brush has soft natural bristles that easily pick up acrylic beads.
Its hardwood handle offers stability and durability, while its round-shaped brush head is ideal for extensions, powder, or carving nails. Plus, it comes in an alloy tube that holds the hair firmly without splitting or deforming.
Enjoy effortless precision every time you use this high-quality tool!
Soft natural bristles make picking up acrylic beads easier
Hardwood handle provides stability and durability
Round-shaped brush head perfect for extensions and nail art
Alloy tube ensures hairs remain firmly connected
Needs proper cleaning after each use to prevent shedding of hairs
Quality control may be an issue
KADS Kolinsky Sable Acrylic Nail Brush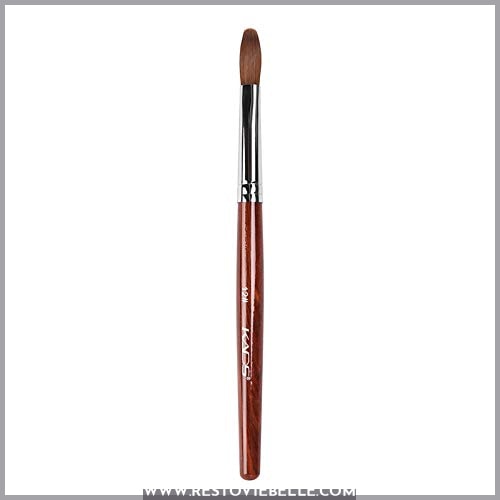 View On Amazon
Try the KADS Kolinsky Sable Acrylic Nail Brush for a smooth and precise application.
This brush is made from rosewood and 100% Kolinsky sable, making it perfect for creating thin lines and intricate details. Its handle features a non-slip embossed design that provides comfortable control while painting.
Customers have praised this brush's quality in performance, as well as its sweat-resistant design, which makes it easy to use over extended periods of time.
High-quality kolinsky hair bristles
Easy handling with non-slip grip
Steel tube won't split or deform easily
Sweat resistant
Excellent shape retention
Filler hairs may fall out initially
Prone to fraying if not cared for properly
Saviland Acrylic Nail Brushes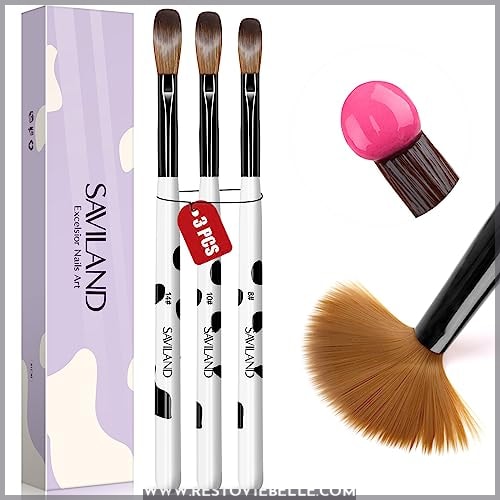 View On Amazon
Upgrade your nail art with Saviland's Kolinsky hair acrylic nail brushes, featuring a classic black and white cow print design that will make you stand out.
This set of 3 Kolinsky hair acrylic brushes is great for creating thin lines and intricate details, perfect for both professional technicians and beginners alike. The strong metal stamping locks the tip firmly to the handle, so it won't come apart easily.
Its monomer cup and three color dips offer convenience when working on multiple nails at once. The mink fur bristles guarantee flexibility in application as well as precise control over detail work without clumping or damaging the brush itself.
With proper care, this reliable tool can last up to 6 months of regular use, making it an ideal choice if you're looking for quality without breaking your budget!
Classic black & white cow print design stands out from other designs
Durable metal stamping locks tip firmly onto handle
Mink fur bristles provide flexibility & precise control without clumping
Monomer cup & three color dips allow easy access during multi-nail applications
Affordable yet long-lasting with proper maintenance
Not firm enough for cuticles or edging
Bristles can get stuck in dried acrylics requiring thorough cleaning
Some don't like the classic cow print style
Acrylic Powder Kolinsky Brush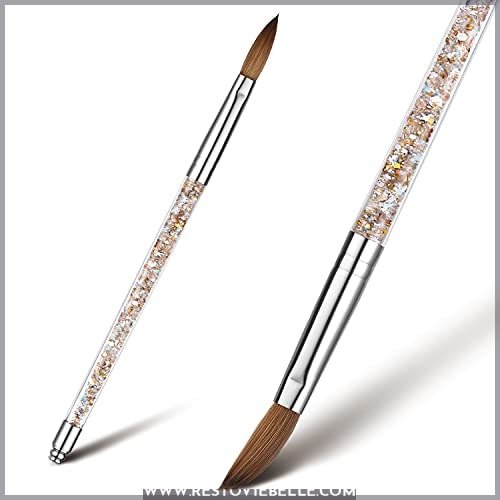 View On Amazon
The iBealous Acrylic Powder Kolinsky Brush is a great choice for beginners, with its 100% Kolinsky sable hair and glitter-filled handles providing smooth application of acrylic products.
The bristles are flexible yet firm enough to pick up beads easily without clumping or getting stuck. It has an alloy tube that holds the brush head in place securely so you don't have to worry about splitting or deforming.
Its liquid glitters add sparkle to your nail art while also giving you better control during application. And at only $9.99, this brush offers great value for money compared to other higher-end brushes on the market.
Easy painting and precision control due to soft natural bristles
Durable construction of alloy tube holding kolinsky hair firmly in place
Liquid glitters provide extra grip when applying acrylic powder
Some difficulty removing residue left by upgraded AB glue
Not 100% kolinsky hairs as advertised
Bristles may get stuck if not cleaned properly after each use
Beaute Galleria Kolinsky Sable Nail Art Brush Set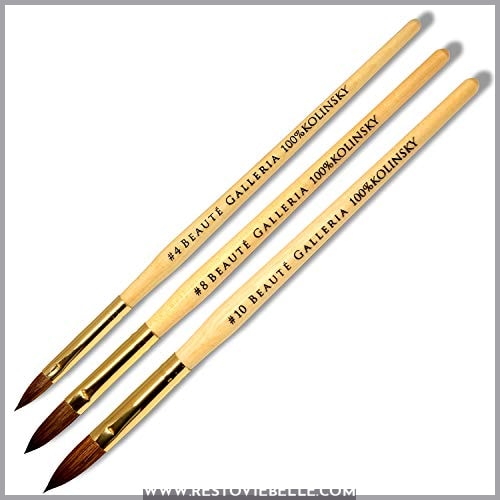 View On Amazon
You'll love the Beaute Galleria Kolinsky Sable Nail Art Brush Set, which provides great paint holding, flow, and spring with its high-quality hair.
The bundle set includes three brushes in sizes #4, #8, and 10 – perfect for a wide range of acrylics, oils, or watercolors; plus gouache.
These light brown brushes are made from waterproof Kolinsky sable material that's soft and flexible to ensure precise control when creating your artwork or sculpting nails.
Nickel-plated ferrules keep everything together without fraying or shedding hairs during use.
Beginners will find this set great value as it features all they need to get into nail art at an affordable price point!
High-quality Kolinsky sable hair
Waterproof & soft bristles
Flexible & precise control
Affordable price point
Quality not always true Kolinsky sable based on tip color
Some reviews saying bristles fray/shed
Size 10 brush too big for some
MGGSUG Kolinsky Acrylic Nail Brush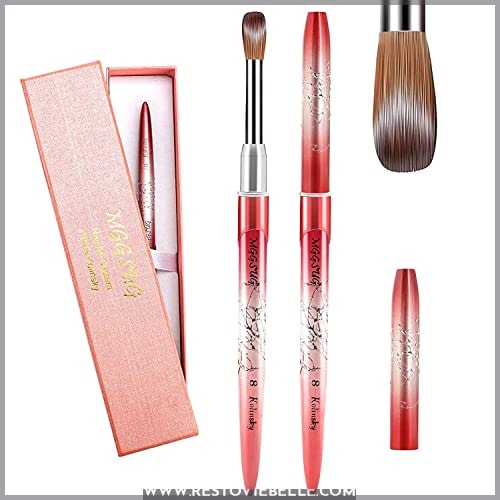 View On Amazon
With its alloy tube firmly holding the hair and a flat copper mouth for precise nail art, the MGGSUG Kolinsky Acrylic Nail Brush offers superior control and smooth application. Its ergonomic handle is made from an alloy material that won't rust or deform, making it easy to shape any nail size or style with confidence.
The brush is available in three different sizes (8# for carving/extension; 10# 12# for extension) so you can find just what you need to perfect your look. And thanks to its stylish gradient color and non-slip embossed design of the handle, this brush provides great grip while staying comfortable during use.
Made of 100% kolinsky hair – soft & flexible bristles allow acrylic powder pick up easily
Alloy material handles are not easy to rust or deform
Stylish gradient color & non-slip embossed design provide great grip
Some users have reported issues with fraying
Needs proper maintenance after each use
Quality may vary depending on the seller
Mia Secret Kolinsky Brush Size 8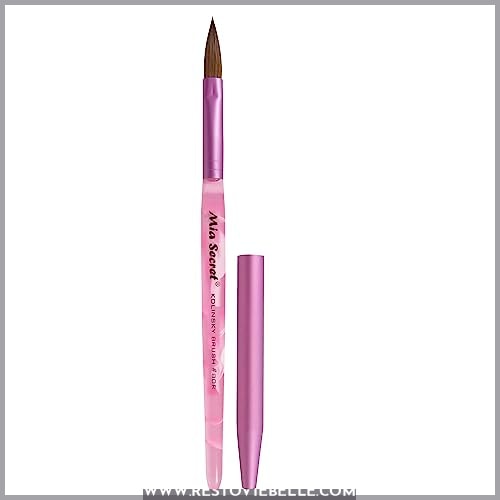 View On Amazon
Experience precision and control with Mia Secret's Kolinsky brush size 8 – the perfect tool for creating intricate details that last. This 100% pure kolinsky nail art brush is oval-shaped, easy to clean, and holds its shape well.
Thanks to its lightweight alloy handle embossed with a non-slip design, this brush offers superior grip for maximum control while painting thin lines or fine details.
Easy to clean
Holds shape well
Bristles don't shed
Lightweight alloy handle with non-slip design
Aesthetically pleasing beauty gift box
Some issues reported of fraying & cheap quality
Seller issues noted by some reviewers
Questions on if worthy of Mia Secret brand
How to Choose the Best Acrylic Nail Brush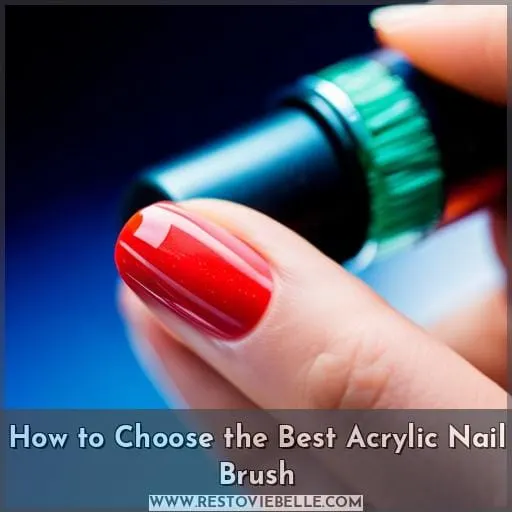 Choosing the right acrylic nail brush is essential for successful nail art. Quality Kolinsky sable hair brushes help create smooth, precise lines and detailing; nylon bristles are less ideal. Brush sizes range from 8 to 12+, with beginners starting off small (size 8-10) for better control before working their way up as they improve their skills.
Quality and Materials
When choosing the right acrylic nail brush, consider the quality and materials to ensure a smooth application. Look for Kolinsky sable hair bristles as they provide superior control. Rounded tips are best for precision.
Handles should be comfortable yet sturdy with designs like wood, acrylic, or glitter options available.
Get sets with multiple sizes and shapes for versatility. Also, consider portable options such as metal caps or cases.
Brush Sizes
You'll want to start with a brush size that suits your skill level; starting small for control, then working up as you improve.
A Modelones Acrylic Brush Size 8 and PANA USA Acrylic Brush Kolinsky are great picks depending on experience. KADS Kolinsky Sable and L'arbois Nail Art Brushes are also good options, along with Saviland's set of 3 brushes – ideal for those just getting started.
Quality brands such as iBealous have affordable yet reliable choices too – their 100% pure kolinsky is sweat resistant and easy to handle.
Whichever type you choose, make sure it offers comfort in use, has bristles that won't get stuck or clump together, plus proper care instructions so it lasts!
What is a Good Acrylic Nail Brush and Why Do You Need It?

Having the right brush for your acrylic nail design is essential, so make sure you choose one with genuine bristles, a comfortable handle, and an appropriate shape. Look for sets that come in various sizes and are of high quality. Brush handles should be sturdy yet lightweight to provide good control over application.
Kolinsky sable hair brushes are ideal as they offer flexibility and hold product well while applying smoothly. A pointed tip allows precision when working with acrylic nails, enabling you to create intricate designs quickly and easily.
Nylon alternatives may be cheaper but won't provide the same results as natural hairs like kolinsky or mink fur do.
After use, it's important to clean thoroughly before storing properly. This will help keep them lasting up to a year if cared for correctly.
Frequently Asked Questions (FAQs)
How often should I clean my acrylic nail brush?
Clean your acrylic nail brush after every use to prevent buildup and ensure it lasts up to a year.
Is it better to buy individual brushes or a set?
It depends on your needs. If you want versatility, then a set is best; it offers multiple sizes and shapes for different projects. But if you're just starting out or prefer to focus on specific techniques, individual brushes are the way to go – choose one with a comfortable handle and quality bristles that suit your skill level.
How long do acrylic nail brushes last?
With proper care and maintenance, acrylic nail brushes can last up to 6 months to a year. Choose quality brands with Kolinsky sable hair bristles for the best results. Look for lightweight handles, a balanced design, and non-clumping bristles for ultimate precision in application.
What is the difference between natural and synthetic bristles?
Natural bristles, like Kolinsky sable hair, are softer and more flexible than synthetic nylon. They hold products better and apply more smoothly for a professional finish. Synthetic bristles can be stiffer, less precise, and prone to clumping – making them less ideal for intricate designs or detailed work.
Is there a difference between nail brushes for acrylics and regular nail brushes?
Yes, there is a difference between regular nail brushes and those for acrylics. Regular ones tend to have thicker bristles or are made from synthetic fibers, while acrylics use Kolinsky sable hair for a softer application and more precise control.
Acrylic brushes also come in a variety of sizes and shapes that offer versatility when it comes to nail art design.
Conclusion
The perfect acrylic nail look is within reach if you have the right tools. A quality acrylic nail brush is essential to creating flawless nails.
From Kolinsky sable to cow print designs, our top 10 list of the best acrylic nail brushes can help you find the perfect fit for your style and skill level. Whether you're a beginner or a professional, these brushes can help you get the perfect look in 2022.
With the right brush, you'll be able to achieve salon-quality nails with ease. So, grab your brush and get ready to craft beautiful nails.